Anatoly Shapiro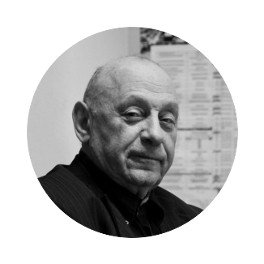 Chief Engineer, 1992-1996
In the First Person:
I graduated from the Leningrad Institute of Railroad Transport, Department of Bridges and Tunnels ages ago, in 1956. Upon graduation, I worked for three years in Mostostroy-6, building bridges, including a bridge in Vyborg around the castle. At the time, I was working as deputy head of the vehicle division. But then my father died suddenly, and I had to move to Leningrad. My uncle was employed in the rubber industry and worked for Project Development Institute No. 1, and this was where I went to work, first as an ordinary engineer, i.e., I started my career anew. There was no other way out; I had never designed anything before, except for term projects, perhaps. And over the next 40 years, I climbed the career ladder from ordinary engineer to Chief Engineer of the Institute. I worked in the Special Design Department (SDD), where I designed girder trusses; but was mostly involved in industrial shells. All the necessary calculations for these were made in cooperation with Voldemar Yakovlevich Pavilainen. We built a considerable number of very important projects: two bus depots in Leningrad (Nos. 5 and 6) with barrel vaults, 96 meters of pre-cast reinforced concrete, we also built shells – 103 by 103 meters in Minsk, 102 by 102 meters in Chelyabinsk, and another shell in Finland. All of these casings were done in pre-cast reinforced concrete, which was preferred over monolith concrete at the time due to its considerably more efficient use of materials and requirement for less-intensive on-site labor: all structural elements with the use of pre-cast reinforced concrete were made at the plant. Pre-cast shells made it possible to save 30% in concrete and 20-25% in steel. There were four kinds of these shells, and each was designed by a different design institute; ours were perhaps the best because they were very well suited for compression.
Then we followed with industrial buildings – in Cherepovets, at Kirov Plant. Two-storey industrial buildings became popular because of the two-tier arrangement under the single roof: production facilities on the second floor, with more spacious areas and large machinery, and to 6 by 6 meter column grids downstairs, with smaller premises. Using hip roof structures, I came up with a way to expand the column grid to 12 by 12 meters. We had a daunting task before us when we designed the Lepse Plant in Leningrad; they wanted the shell load to be no more no less but 5 tons per square meter. So what did we do? We created an experimental 44 meter shell which had to be loaded with 700 tons. So, we brought in 140 truckloads of concrete scrap, and got laughed at by the guys at the plant: come on, you must be kidding – it'll burst! We loaded four layers of blocks, and the casing did not give way.
I left the Institute in the early 2000s, when I was hired by NPO Georekonstruktsia-Fundamentproekt to design a new station vestibule for the Gorkovskaya Metro Station. We moved several times from one building to another during my years at PI No. 1, and I remember that when I had an office on the second floor in the Lobanov-Rostovsky Mansion, my window overlooked St. Isaac's Cathedral, and I was amazed to see how the huge building was sinking. The central part had sunk by some 60 cm, and the porticos around it – by much less. You have to keep in mind that buildings in Leningrad sink this way, too.